Pure Cosmetica Soothe Exfoliant
Regular price $42.00 Sale
Pure SOOTHE face exfoliant is formulated with 100% natural botanical oils and exfoliants that gently remove dead skin cells leaving skin feeling smooth and hydrated.

Indulge in an exfoliation ritual, rich with the beneficial properties of Epsom Salts and Arnica Oils formulated with selected botanical oils and oil extracts. The scents of Geranium, Chamomile and Vanilla create a soothing spa experience.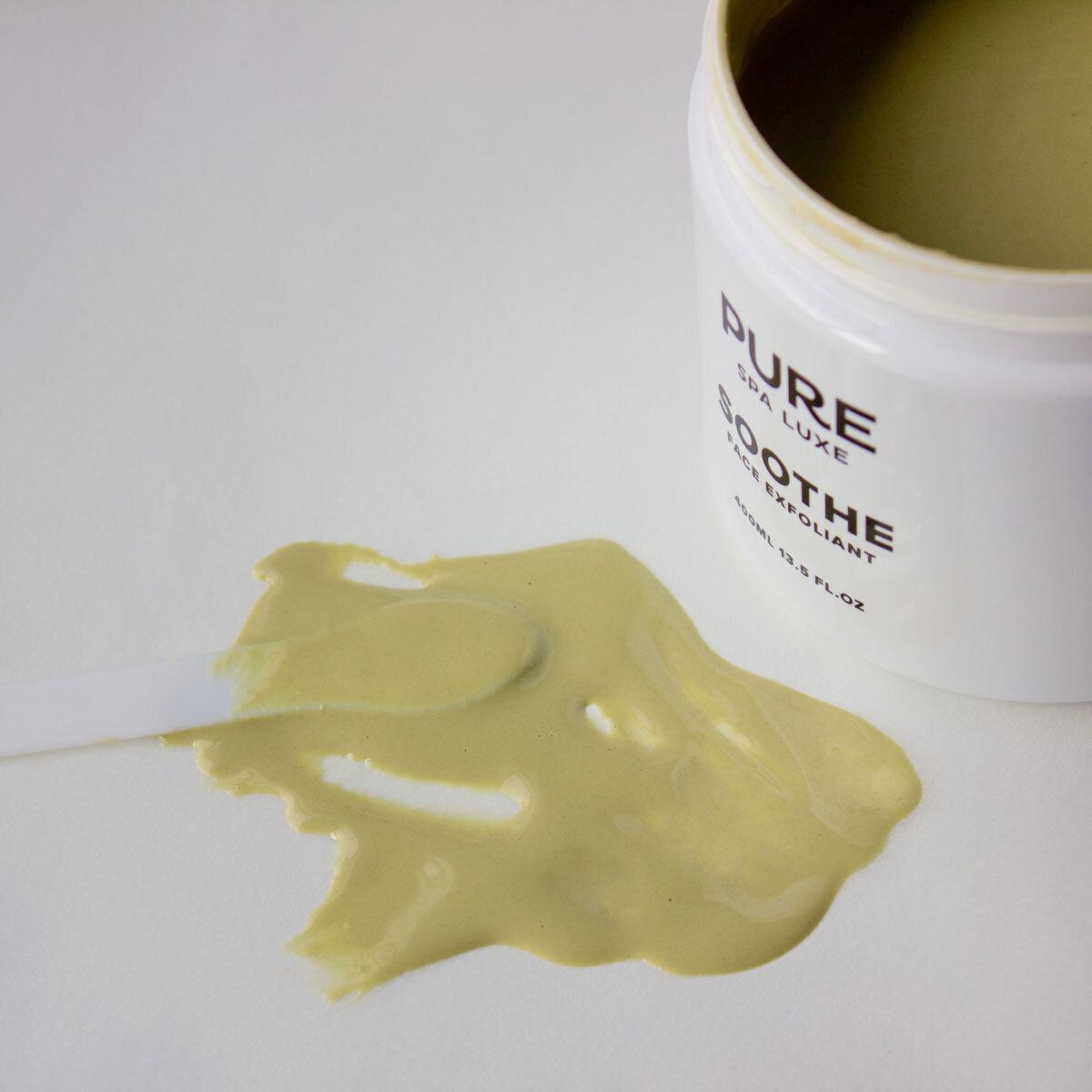 WHY WE LOVE IT
Delicate face exfoliation with Matcha Green Tea Powder, Bamboo Powder and Aloe Vera Leaf Powder
Contains Chamomile and Fennel Seed oil that replenish the skin's natural oils
Subtle aromas of Chamomile and Vanilla oil
INGREDIENTS
Almond oil, Castor oil, Grapeseed oil, Glyceryl Cocoate*, Sunflower oil**, Coconut oil, Candelilla Wax, Matcha Green Tea Powder, Epson Salts Powder, Beeswax, Arnica Infused oil, Aloe Vera Leaf Powder, Bamboo Powder, Titanium Dioxide, Australian White Clay, Vitamin E oil, Angelica Root oil, Chamomile oil, Fennel Seed oil, Geranium oil, Palmarosa oil, Rose oil and Vanilla Infused oil.
*Derived from Coconut oil
**Organic

HOW TO USE
AS AN EXFOLIANT
Place a small amount (a full scoop of the spatula supplied) onto the palms of one hand. Adjust this to suit your personal discretion. Using your index finger, gently rub this in small, circular motions which warms this up. Dab this over parts of the face areas avoiding the eyes, mouth and other sensitive areas. With both hands, gently rub this in and around the face to exfoliate. Rinse this with warm water for a beautifully moisturised glowing skin.
AS A MASK
Perform the above in the same manner. Leave on for up to 20 minutes for a deep pore clean. Gently rinse with warm water or use a warm, wet flannel to rub off.
For deep skin nourishment and maximum skin health for either of the above rituals, follow with Pure Body Luxe SOOTHE oil for extra skin moisturisation. Discontinue use if irritation occurs. We recommend doing this once or twice a week.