FAQ
Will it hurt?
While we can't make waxing completely pain free (we are removing your hair from the root after all!) we can make it as painless as possible. Our waxes are made to be used at low temperatures, sticks to the hair rather than the skin and effectively removes all hair which means a quicker more painless wax that is better for your skin. If you have a lower pain threshold you can take over the counter pain relievers or apply a numbing cream to the area 30 minutes before. This is especially useful for Brazilian waxing.
I've had a bad waxing experience somewhere else!
Unfortunately most people have had a bad waxing experience in the past. This can be due to inexperienced technicians, cheap wax or not following the correct aftercare. Our therapists are excellent waxers and we've built up quite a reputation on our brazillian waxing alone! We use very high quality waxes that are cruelty free, ethical and gentle to minimise pain and discomfort. It is also important to stick to the correct aftercare procedures. Don't swim, sauna, spa, exercise or sunbathe for 24 hours after your wax. Wear cotton briefs to allow the skin to breathe and minimise bacteria colonies. Don't exfoliate or apply perfumes, lotions or makeup to the area for 24 hours. Keep the area clean, dry and cool.
What should I do before my waxing appointment?
Before your waxing appointment make sure your clean, comfortable and the area is free from any makeup, lotions and potions. We cannot wax over sun exposure, sun burn, open wounds, infections and rashes. In regards to Brazilian please reschedule if you get your period.
What should I do after my waxing appointment?
Stay out of the sun, saunas, spas, excessive exercise and no swimming for 24 hours. We need your follicles to close back up and the heat and inflammation to reduce to avoid burns and infections. If you are prone to ingrown hairs exfoliate and moisturise the area regularly. If you are prone to folliculitis then apply an antibacterial cream change and underwear regularly. 
Brazilian waxing tips and tricks.
Brazilian waxing can make people a bit anxious so to put your mind at ease these are The Little Beautiques top tips.
Firstly we have seen it all before. All shapes, sizes, ages, ethnicities. Don't feel embarrassed or ashamed of your body. We are all unique, we are all beautiful and we are all worthy of a great waxing experience!There are times when getting a wax just isn't worth it. Reschedule your appointment if you are on your period, feeling sick or stressed. Your body already has a lot to deal with and it can make the experience a lot more painful.Take over the counter pain relief or apply numbing cream to the area 30 minutes beforehand if you have a low pain threshold.Apply a antibacterial cream and keep the area clean, dry and cool to avoid inflammation and infections.If you have really dense thick hair or really deep follicles then doing a course of IPL or laser hair removal will help the follicles shrink and the hair get finer and sparse.Please don't come directly from working out, out of respect for your therapist.
What kind of wax do you use?
The best kind! We actually have four different types of wax depending on the area being treated and your skin type. We use a natural strip wax for leg waxing, arm waxing, chest and back waxing. This allows us quicker removal over large areas. We have a hybrid hot wax for brows, facial waxing and underarms and sensitive wax for brazilians. We also have a hypoallergenic wax for people who are allergic to beeswax and other natural products. Having this variety allows us to deliver the best waxing experience for each individual client. 
What are your hygiene and safety guidelines?
Coming from a medical background we have exceptionally high standards. We will never double dip our sticks (gross), our treatment beds have a protective sheet that is changed between clients as well as linen and multiple cleaning and sterilising procedures and for everything that cannot be single use. While looking after the planet is one of our top priorities, your personal safety and hygiene will always come first.
Bikini

A bikini wax removes pubic hair outside of the underwear line or bikini. This is great for first timers, low maintenance gals or for swimming. 

Extended bikini

An extended bikini takes more off the sides than a bikini and also removes some of the hair underneath and around the buttocks. An extended bikini is a great option if you wear g-strings, have a higher cut swimsuit or a bit shy about getting a Brazilian wax.

Brazilian

A Brazilian removes everything although you have the option to leave a small strip at the front and whether you would like to remove hairs between the buttocks. Brazilians are great for everyone! All shapes, sizes and ages. Some of our clients feel more hygienic, easier to maintain and great for disguising when you're going grey down below!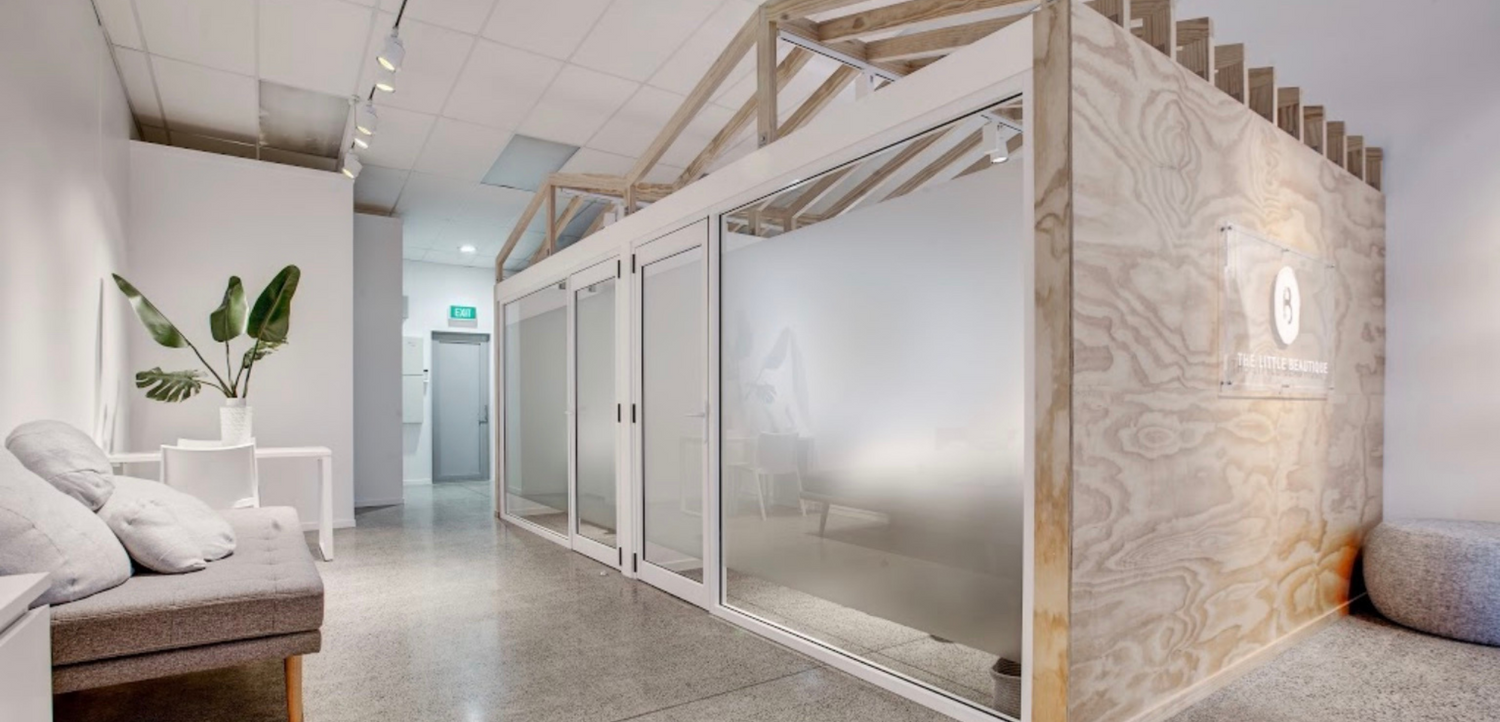 Our waxing service includes
Leg waxing
Bikini waxing
Extended bikini waxing
Brazilian waxing
Underarm waxing
Lip + chin waxing
Facial waxing
Arm waxing
Back waxing
Chest waxing
Mens ear, nose and brow waxing